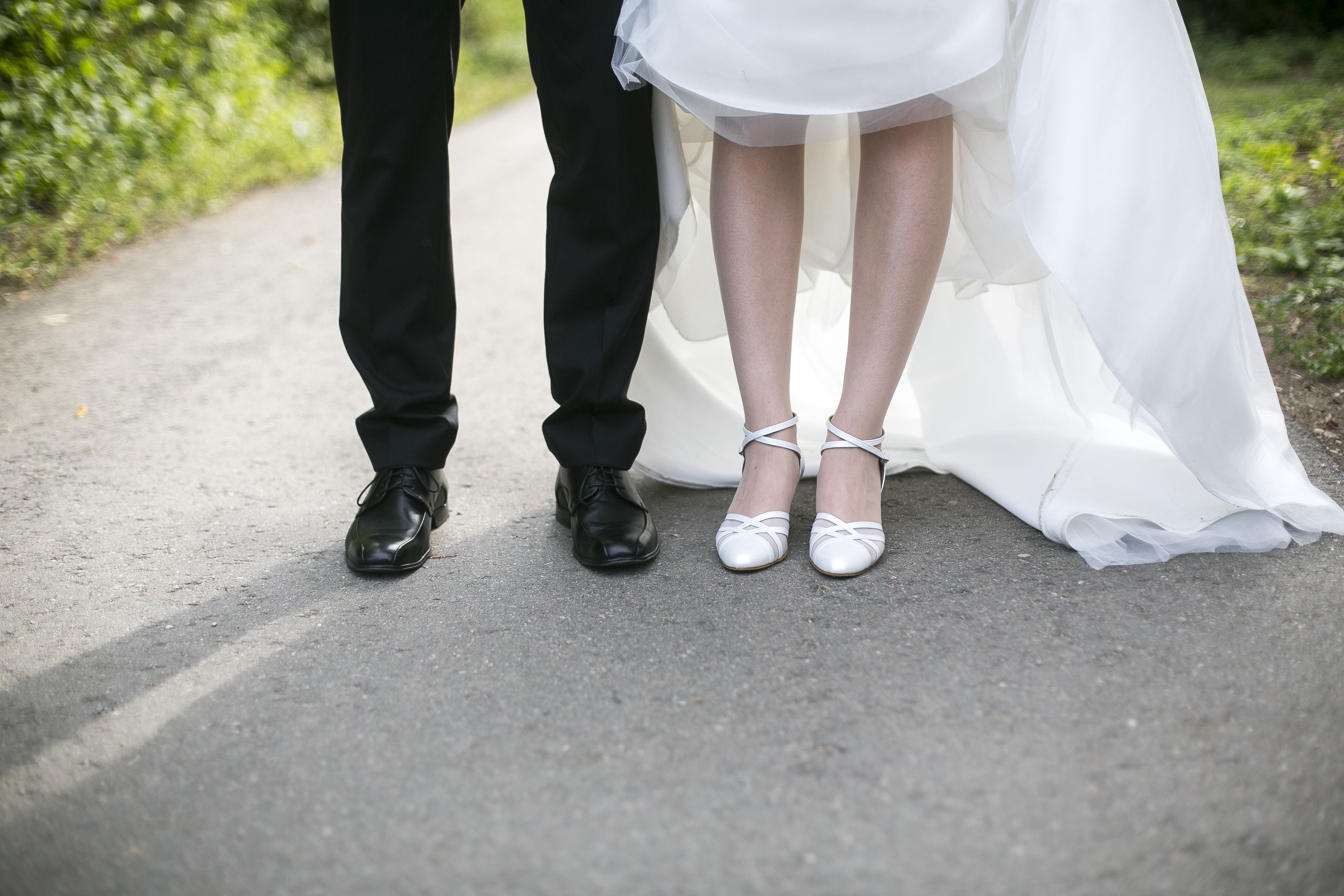 As so often, the best bridal shoes do not have to be the most expensive. What makes a good wedding shoe? For both bride and groom?
I think that can be summed up quite briefly.
A good wedding shoe:
Has to be comfortable!
After all, you spend many hours standing and walking in it.
Has to look good and you must like it!
and probably match the dress or suit or the style the bridal couple is wearing 😉
But what does that mean for the shoe itself?
It does not matter if you wear chucks to your suit or even under the wedding dress, whether they are red, maybe even set up with sequins, you choose Italian designer shoes or Louis Boutons. There is no rule or even a must for a particular shoe.
As long as you like the shoe and you can walk, stand and maybe even dance in it for quite a while, you made the right decision!
If you want white shoes for your bridal gown, the question is, whether you want to spend a fortune, because… let's be honest… how many of you usually wear white shoes? I mean like in everyday life?
And now we just assume that people in health care, rarely wear bridal shoes;) Hardly any woman wears hear white wedding shoes on other occasions … Well, I would say, you need a good alternative. And this alternative does not always have to be expensive.
Dance shoes are often convenient wedding shoes
Sometimes white ballerinas from the cheap shoe store around the corner are more comfortable and especially cheaper than the white (overpriced) high heels in the bridal shop. The same applies to the groom's shoes.
From experience I can say that dance shoes are a very good alternative, even if that may sound strange, because not everyone goes dancing in everyday life.
But dance shoes, both male and female, are often optimally suited as wedding shoes because they are made to walk, dance and stand for a long time. The only difference to traditional shoes is the leather soles, which is softer, but that does not do any harm.
Dance shoes are relatively cheap – to shoes offered in a bridal shop. Price wise – of course, it depends on the brand – they cost between 60 and 120 €.
They are comfortable, give a good grip, are available in half sizes and even heel heights are determinable for women and men. Normally 3-7 cm for women and 1-3 cm for men, depending on the brand. They also offer various heel shapes and … ..the best (!), I think, is the option for the bride to opt for a white silk look and to be able to color the shoes (later).
Dance shoes can be colored!
Because dance shoes are made to be colored in any color that you can imagine. From skin color over pink to black – everything is possible. And so you can use the shoes perfectly for other occasions even after the wedding.
Shops selling dance shoes are in most bigger cities, or online, of course. Whereby I can definitely recommend a store, for advice, direct try on, different models and also the "inking option". For this you should get information and even color in every dance shoe shop. And if you do not know where to find a suitable, good store: Just ask at the local dance school or in the dance sports club – they are often even in small villages. IN dance sport clubs or studios they know where to buy dance shoes and get more advice.
No matter what shoes – wear them before the wedding!
No matter which shoe it is at the end, a tip:
Wear the shoe before the wedding. At home, in the office, while ironing or as a "slipper".
There is nothing worse than having blisters on your wedding day or pain while walking.
Also for dancing, I recommend to wear the shoes when practicing from time to time, because some are slipperier than expected and then you can prepare them with hair spray on the sole or make the steps smaller. But of course you only know, if you have tried walking and dancing in it before.
It is your day!
You decide what it looks like and this includes the shoe choice as well!
And another idea, especially for weddings in summer:
After the official and festive part of the wedding, sometimes wearing ties become an option and jackets are removed. After dinner you could also provide flip flops for all guests and make owners of sore feet smile …